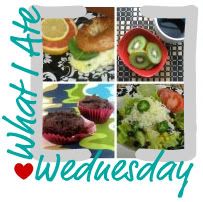 Breakfast:
I have a tendency to forget to take pictures of anything I eat the morning. It's too early most of the time to remember to bring my phone/camera to the kitchen with me. However, as part of my goals for 2012 I am making sure that I eat something more substantial for breakfast than just a tiny granola bar. Today, I had two waffles and a cup of yogurt that I added some granola to.
Lunch:
Pita Pizzas! Wheat pita with cheese, a slice of pepperoni and marinara sauce.
Dinner:
Dinner was a nice variety of leftovers. I clearly was not in the mood to do any cooking. Dinner consisted of some leftover broccoli cheese casserole, corn flake potatoes, pork and some kielbasi and sauerkraut. It may not look particularly appetizing, but I enjoyed it!
Snack Time:
Sarris chocolate, a container or yogurt and an apple.