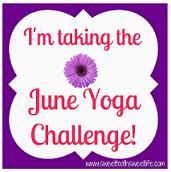 Courtney at Sweet Tooth, Sweet Life has started an awesome challenge for June. Are you taking the June Yoga Challenge? I was in before I even finished reading the blog post about it!
The Challenge:
Incorporate Yoga into your exercise routine 3 days per week!
How I incorporated it:
1. An 1hr 15 minute yoga session at a local hot yoga studio (yay for Groupon and trying out new places!).
2. Spent 20 minutes mastering the Crow pose (for some reasons, I have always struggled with this one!)
3.  I also downloaded a free 20 minute audio yoga workout from YogaDownload.com and completed it at home.
My thoughts:
So relaxing!
Awesome stretching!
Can't wait until next week!
It's not too late to join the challenge!