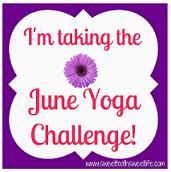 It's week 3 of Courtney's June Yoga Challenge. This month has flown by so far!
I seriously come to love yoga more and more each time I go to a class or engage in some yoga in the comforts of my own home (doing yoga at home has amazing benefits….you can try any pose you'd like without feeling embarrassed when you fall! Not that I've ever done that or anything!)
This week I was extremely busy (only three more weeks of grad. school left and I swear I'm done with school. Two masters is enough! I need to keep telling myself this..I have an unhealthy addiction to school.)
While reading Courtney's blog, I noticed a post about a free 15-day trial at MyBarre3.com. Needless to say, I jumped on this opportunity and couldn't be happier about my decision to! MyBarre3.com allows you to practice barre3 anytime, anywhere with a wide-selection of video workouts.
I think my absolute favorite part of MyBarre3.com is that you can choose videos based on the length of the workout you want to do. This is perfect for every busy schedule.
My 3 sessions for the week included:
1. Barre3 Ballet Bootcamp. I never imagined that ballet and bootcamp could fit in the same sentence, but it definitely worked. Prevention magazine even did a test on this program. They tested 15 women who completed the program for a month. They all saw amazing results! I am planning on giving this a go for the entire month of July. Is anyone with me?
2. Barre3 Runner's Workout. This 30 minute workout is designed with athletics in mind. I loved it! It was challenging and fun all at the same time! Runners and athletes, give this a try!
3.  Barre3 Balance. This is a 40 minute workout to help with grace and strength. I swear I am so uncoordinated sometimes. I'm hoping repetition of this workout will help me to ummm not trip over my own two feet next month!
I am really enjoying Barre3. Everyone should give it a try!