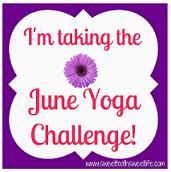 Can you all believe this month is pretty much over with? This month seriously flew by. With work, school, plenty of baseball games and the June Yoga Challenge, I can't believe July is just around the corner!
Let's take a look back on the yoga on all the yoga-relate posts for the month:
June Yoga Challenge Update 2 and Aurorae Yoga Mat Review
June Yoga Challenge Recap 3- MyBarre3 Style!
Yoga has definitely been good to me over the last months and in the previous monthly that I have participated in yoga!
June Yoga Challenge Highlights:
I must say that I absolutely love MyBarre3 and cannot wait to continue using many of their videos!
I checked out an awesome new yoga studio within walking distance of my house.
Aurorae makes an awesome mat/towel combo that every yoga-lover needs to take a look at.
Yoga makes you feel great…I seriously feel like I have so much more energy after coming out of a yoga class.
Yoga is great on the joints…it's low impact and helps to ease an aches and pains that you may have from participating in other forms of exercise.
Yoga makes you stronger and increases flexibility. Trust me, flexibility was something that I definitely needed to work on.
Yoga is seriously appropriate for anyone to try…young, old, beginner, pro, athlete, non-athlete.
I hope to continue with my yoga habits through July and beyond. Thank you Courtney for holding an awesome challenge!