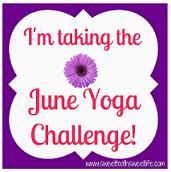 Time for the second update in the June Yoga Challenge brought to you courtesy of Courtney at Sweet Tooth Sweet Life. This week I decided to take my yoga to a hot yoga studio three days. A few months ago, I always used to visit a yoga studio three days per week. As life got busier and busier, my time spent in a yoga studio fizzled down some. Needless to say it felt great to be back!
The one thing I have always disliked about going to [hot] yoga is the fact that I could never find a mat that I felt was suitable for hot yoga. I felt like I was always slipping and sliding during class and was worried that I was going to hurt myself. I started out with a really thin mat that I had purchased for $5 (the only reason I purchased this mat was to avoid using the borrowed mats or laying on the floor during the abs portion of classes at the gym. I am a huge germ-a-phoebe! I actually bought this mat at 5 Below so you can imagine the quality.
When I started going to yoga at a studio, I took my trusty little $5 mat along with me. Big mistake! This mat was so thin, I actually ended up with brush-burns on both of my elbows. So, I opted for a thicker mat. I purchased a mat at Dick's Sporting Goods. It was very thick and solved my elbow problem. The one problem it didn't solve was the slipping and the sliding.
Which is why I was extremely happy when the wonderful Eileen at Aurorae Yoga offered to send me a yoga mat to review.
I received the Aurorae Yoga Mat/Towel known as Synergy. Let me tell you, this mat is amazing!
This first thing I noticed about this mat was how light-weight it was. From the moment I picked it up on my front porch in the box from UPS, I could tell it was going to be very light weight, easy to carry and very easy to role up (all of which held true when I used it).
When I took the mat out of it's plastic wrap. I loved the mat/towel combo.
From Aurorae:
Product Features
1st product of it's kind. Bonds our 5mm per Yoga mat bottom surface with our Lush Skidless Microfiber Towel Top Surface. We bind this Super Deluxe product with a beautifully stitched border. The more you sweat the better your grip. US PATENT PROTECTED
YOGI TIP For best results I recommend at the start of your practice to lightly spray some water on the top surface of your mat. This will prevent any sliding if you have dry hands and feet.
No Longer the need to buy two products, a mat and a skidless towel. No Slipping, No Bunching or movement of a separate towel on top of your mat during your practice. Great for Hot Yoga practices, Ashtanga, Bikram etc. The more you sweat the better the grip.
Lush, Super Absorbent, Ultra Thick and Extra Long. Durable and Long Lasting. Easy to care for and machine washable. No Odor, Light weight and easy to carry. Eco Safe SGS approved, free from Latex, Silicone and Phthalates
 I loved the fact that this promised to be slip-free and the fact that I didn't need to bring a towel and a mat to class. Needless to say, I was very excited to put it to the test!
After using it for three yoga classes, here's my opinion:
Light weight and easy to carry.
Definitely skid-proof.
Great length — I'm 5'7″ and had plenty of room.
Odor-free — no amount of sweating seemed to make it stinky!
I tried the tip about lightly spraying it was water before practicing — everyone should try this if you have a towel/mat combo.
I also got plenty of compliments on this mat. This is a product that every yogi or yogi-wannabe needs to check out!
Thanks again to Eileen and Aurorae Yoga for making my yoga experience much more enjoyable!