I figured it's about time I make a post…I've been blog-lazy recently! Anyways my weekend was filled with what I like to refer to as free and/or low-cost shopping. Upon a few requests, I'm going to share some tips, tricks and secrets for getting the most for your money!
While I am not extreme couponer, I thoroughly enjoy getting stuff at a great price; it's exciting and makes you feel good. It's almost like a game, how cheap can you get stuff. Despite the fact I am 26 years old, I have no shame in handing over a stack of coupons (or in some cases scanning a ton of them on my own at a self checkout line!). The one important thing to note is that I don't put a lot of time into couponing. In fact, I really wouldn't call it couponing at all. I refer to it as simply paying attention.
Here are some tips to get you started:
Pay attention to your mail. Don't assume everything is junk mail. Look through the advertisements. Trust me, you'll find plenty of coupons. For instance, my "junk mail" this week contained a coupon for a bag of free baby carrots and a free box of noodles. Why not?
Utilize offers from Victoria Secret and Bath and Body Works. When they send you a coupon for a free trial-sized item or a free pair of underwear, go use it! Just ask the sales associate where you can find the item and head to the register quickly. Don't be tempted by other items in the store or the fact that you coupon may also be good for 20 percent off of a bra. Remember, you are just there for the free item!
Watch the television commercials during your favorite shows. A lot of times, you may notice and advertisement telling you to visit their website, follow them on Twitter or like them on Facebook to print out a coupon for a free sample or a dollar amount off.
Check out this website: SweetFreeStuff.com for legit free samples as well as coupons.
Visit Target and Walmart's website, they often have free sample giveaways as well as printable coupons.
Keep a small folder of coupons. Each week when your grocery store advertisements come in the mail, look at what is on sale and what you need. Then, check and see if you have a coupon to go along with the sale items. This should only take five to 10 minutes if you are organized. Check out the ads in your Sunday paper as well and compare it to your stack of coupons.
Only use coupons on items you normally buy or on items you need (unless you are getting them for free of course!). Coupons won't end up saving you money if you buy an item just because you have a coupon!
Avoid convenience stores. You'll pay for the convenience.
Look for printable coupons. Check out the websites of products you constantly use for printable coupons; sometimes you'll even end up with free samples too.
Find out if your local grocery double coupons. This can often lead to you getting sale items for pennies if you have coupons.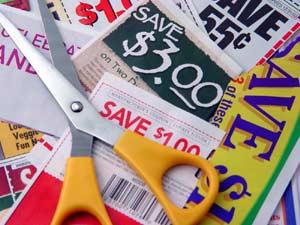 Longchamp Savings!
I purchased the Large Longchamp Le Pliage tote for $107!! Regular $145 and rarely on sale. Here's how:
I did a Google search for Longchamp sale and came across a website called bagshop.com (which is actually a purse boutique like store in the North East).
I did plenty of research to make sure this store was going to send me a real bag!
I checked out there website for different colors. Turns out, the fall colors are onsale. I found a color called "Praline" which is just a slightly darker variation on the beige color with a darker inside.
Checked for coupon codes. Retailmenot.com had a 10 percent off coupon for Bagshop.com
Website offered free shipping, plus no tax!